Mother's Day is the perfect Sunday to remind yours how much you love her, how much you appreciate her and take the opportunity to thank her for everything she has done for you. For this reason, for this date we look for the best gift for them but, many times, the illusion and surprise are in the detail, in finding what suits her the most and what reminds you the most of her without spending a lot of money. And you can achieve this with a simple WhatsApp!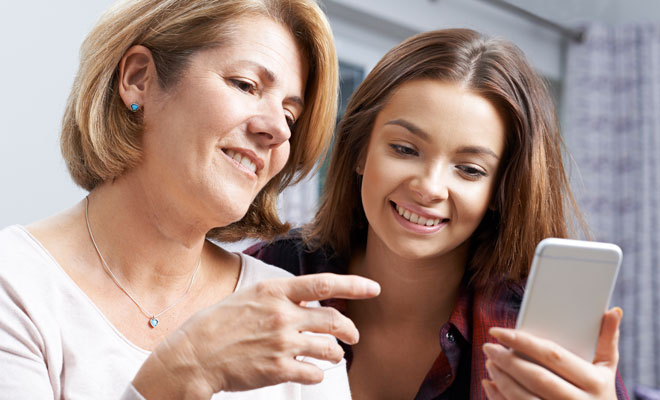 Surprise her with a message that fits how she is, with a phrase that makes her smile, an image, a funny meme about mothers or a sweet quote that moves her. Every mother is different and only you, who know her, can choose what to say to her. Here we leave you some very original WhatsApp congratulations ideas for Mother's Day. Copy or be inspired by the one you think yours will like the most and succeed!
Beautiful WhatsApp messages for Mother's Day 
We begin our batch of messages to send to your mother via WhatsApp with a series of the most beautiful phrases that you can even accompany with a photograph of yourself. Your mom will be excited when she reads the message!
A mother is someone who knows your faults and, despite them, continues to love and care for you as if you were the best person in the world. For that alone, you deserve the best. Happy day mom!
Stop looking for love for life, you already have it! And it's your mother 's.
Mother there is only one and like you I have not seen any!
Happy day to the most special mother, the one who loves me and, despite the years, continues to worry the same.
How lucky to continue celebrating this day with you, even in the distance. I wouldn't trade you for anything!
Doctor, teacher, friend, counselor, lawyer… And mother. You have it all! And without asking for anything in return. I love you!
The only love that everyone believes in is that of a mother for her children. I love you so much mom!
The strength of a mother is greater than all the forces of nature. Good day!
Mothers are like glue. Even when you don't see them, they still support the whole family.
I think that every day I look more like you and that fills me with pride and joy. Happy Mother's Day!
Thank your mom for always being there when I need you, for your infinite patience, for your love, for your support… For everything!
For wanting me before you met me, for putting up with me once you met me and for always loving me. Thanks Mom!
Life doesn't come with a manual: it comes with a mother.
There are many beautiful things in life. Lots of roses, stars, sunsets, rainbows, brothers, sisters, uncles and aunts. But there is only one mother in the world, and I have the best!
Of all the gifts that life has given me, my mother is the best of all. I love you!
You never know what you have until your mom comes and tells you where it is. I adore your mommy!
Mom, you are and always will be my greatest support. Happy Mother's Day to the best mom in the world!
Mother's Day: funny greetings with images
Mother's Day is a good day to remind your mother that she is a super mom. Not many times we recognize it, but we do know it very well. Do not miss the opportunity to send your mom one of these beautiful and funny images, you will surely make her smile more than once! Are you ready to choose your favorite?
Perhaps you are one of those who think that " a picture is worth a thousand words" and, therefore, you prefer to congratulate your mother with a photo that shows how grateful you are for everything she does!
Mother's Day is also the perfect time to send her an image in which it is clear that, for you, yours is a superheroine! What do you think of this funny image?
You can add a touch of humor, highlighting those things that all mothers have in common, like finding everything you lose…Or wait for you to eat when you tell them that you are going in an hour… They will laugh!
How many things can a mother do at once? We can't even count them! Remind your mom how much you appreciate everything she does for you, her, and her entire family at the end of the day. Without a doubt, they are super moms.
What really matters on a day like this is to say what sometimes costs us and have a detail with the person who has taken care of us all our lives! That is why it is a good idea to send a WhatsApp message first thing in the day so that your mother knows how much you love her, that you thank her and that you keep her in mind every day of your life.